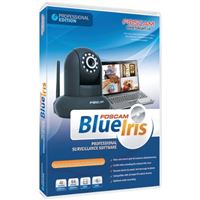 We've had a Foscam FI8910W around the house for a while and I've enjoyed being able to look in on Tyla and Elijah while I'm at work. It has worked so well that we decided to expand our collection a bit. We now have a camera watching our front door and another in the garage. It's a really easy way to watch for packages, make sure we shut the garage doors, and keep track of people who come up to the front door.
To manage all three cameras, I picked up a copy of Blue Iris. It has an incredible array of options including the ability to tweak the motion detection to your heart's content and then set up alerts that will send you emails, text messages, and much more. Any motion gets recorded to our main file server and backed up into the cloud. There's an app for all the phone platforms that lets me view live feeds from all the cameras and see recent alerts.
I'm really impressed with the system. These cameras are only $60 each now. It makes me want to pick up a few more.